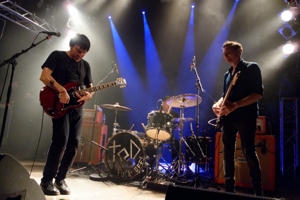 Die Konzert-Konkurrenz war natürlich groß an diesem Sonntagabend in Hamburg - auf der Trabrennbahn hatten sich die Foo Fighters angekündigt und im Knust …And You Will Know Us By The Trail Of Dead. Für die einen eine schwere Entscheidung, für uns die einzig richtige, zu Trail Of Dead zu gehen. Conrad Keely & Co. machen es aktuell wie viele andere Bands und präsentieren eines ihrer Alben in voller Länge (auch wenn sich das damalige Band-Line-Up vom heutigen unterscheidet) - in ihrem Fall war dies "Source Tags & Codes" aus dem Jahr 2002, mit Songs wie "Relative Ways", "How Near How Far" und "Another Morning Stoner". Da konnte man nichts falsch machen.

Schon beim Vorprogramm Kimba Kyon hatte Bassist Autry Fulbright II die Lage und den Platz in der ersten Reihe ausgekundschaftet und nachdem die ersten Klänge des Intros vorrüber waren, Conrad Keely, Jason Reece und Jamie Miller auf der Bühne waren, packte er direkt seinen Mikrofonständer und seinen Bass ein und platzierte sich inmitten des Publikums, zur Bühne gerichtet - und blieb bis zur Zugabe das ganze Set über, hatte sichtlich Spaß, mal ein Trail Of Dead-Konzert aus dieser Perspektive zu erleben und vor allem mitzuspielen. Da er sowieso nie stillstehen kann, passte er gut dort vorne hinein und ließ sich auch nicht von diversen Moshpit-Aktionen aus der Ruhe bringen. Guter Typ! Der Rest der Mannschaft ließ sich nicht lumpen und lieferte ein energiegeladenes Set ab, mit Songs desjenigen TOD-Albums, das vermutlich alle Facetten der Band beinhaltet: Rock, Pop, Punk, Prog, Noise. Mal laut, mal leise, immer eine Melodie, immer viel Energie. Wenn Jason Reece nach vorne kommt, wird noch eine Schippe draufgelegt, der Mann strahlt immer etwas Gefahr aus. So lange er sie in Musik auslebt, ist alles gut, ist alles im grünen Bereich.

Die Ansagen waren kurz, teils in deutscher Sprache, alles im Rahmen. Dafür waren die Songs umso ausufernder, technisch hervorragend aber nicht 1:1 wie auf Konserve dargeboten, das wäre verkehrt. Da macht sich das jahrelange Touren bezahlt, dass man hier und da etwas variieren kann. Nach dem Hauptteil und letzten Song des Albums "Source Tags & Codes" folgten natürlich noch weitere TOD-Kracher: "Will You Smile Again?", "Caterwaul", "Aged Dolls", "A Perfect Teenhood" und als Rausschmeißer eine amtliche "Richter Scale Madness". Auf jeden Fall die richtige Konzert-Entscheidung.