Konzert-Bericht
Can't we try again? Nice try!

Clem Clempson Band

Bonn, Harmonie
23.10.2013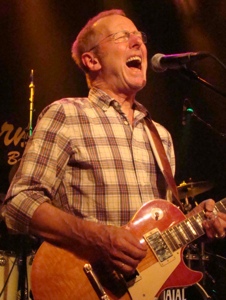 Dave "Clem" Clempson (guit; u.a. Humble Pie, Rough Diamond) ist ein Musician's Musician und ein Gitarrist für Gitarrenspieler. Auch wenn sein Name vielleicht nicht jedem spontan etwas sagt: Viele grad ältere Semester haben den Maestro, der 1975 ursprünglich den scheidenden Ritchie Blackmore bei Deep Purple ersetzen sollte, als Colosseum-Gitarristen in ihrem Plattenschrank stehen. Nach langer, erfolgreicher Mitwirkung bei der Hamburg Blues Band sollte es nun endlich mal ein Solo-Ding sein, bzw. die eigene Band...

Und die besteht aus Adrian Askew (org; u.a. Edison Lighthouse, Lucifer's Friend, Atlantis, Hamburg Blues Band), Reggie Worthy (bss; u.a. Traffic Jam, Frumpy, Eric Burdon, Curt Cress) und Eddie Fillip (drms; Traffic Jam, Inga Rumpf, Mike Harrison, Such A Surge). Und natürlich wird die Setlist zunächst vom überwiegend in dieser Formation eingespielten ersten Soloalbum des sympathischen, völlig frei von Starallüren agierenden Briten dominiert: "Dancing With The Blues" tut genau das - die kräftig groovende Nummer gibt überdies Adrian Gelegenheit, an der Hammond zu brillieren. "Route 69" wird auf Platte von der großartigen Maggie Bell gesungen, das stört aber nur, wenn man das Original kennt. Für die "Intonationsschwierigkeiten", die ein anderer Konzertkritiker bei Clem bemerkt haben will, würden andere Möchtegern-Sänger mal sicher ihr Großmütterlein verkaufen. Durchaus feststellbar aber ist, dass ihn die Doppelbelastung anstrengt und dass er sich in Gesangspausen entspannt und sich umso lieber in eigene Soli oder solche der Bandkollegen sinken lässt. Apropos: Mit einer roten halbakustischen Gibson ES gestartet, muss es für die feurigen Slide-Partien der u.a. durch die Allman Brothers unsterblich gewordenen Elmore James-Nummer "Done Somebody Wrong" natürlich eine Les Paul sein.
Eine ganz andere Seite von Clem zeigt das so melancholische wie melodische Instrumental "Can't We Try Again", das näher bei Peter Greens Erfolgsphase, Bei Roy Buchananan oder bei Santanas "Love Theme From Spartacus" als bei traditionellen Zwölftaktern steht.

Bei mehreren Stücken von "...Public Interest" hat Pete Brown writer's credits - der nun nach einer kurzen Pause auch livehaftig das zweite Set beflügelt. Der Mitautor von vielen der bekanntesten Cream- und einiger Colossseum-Stücke überzeugt auch als Sänger beispielsweise bei "Think About Me", "Time Will Tell", "Flag A Ride" oder Jack Bruces "Theme For An Imaginary Wesern" sehr, genauso wie übrigens auch Organist Adrian, der "God Bless The Child" singt. Und natürlich ist die Sahnehaube auf dem gelungenen Musikabend der abschließende, rockige Block mit Cream-Nummern wie "White Room".

Surfempfehlung:
www.rock-the-earth.de/main.afp?CMD=AR_CLEMPSON_ABOUT
open.spotify.com/artist/44NFfAHuyLkc9977hB6XXy
de.wikipedia.org/wiki/Clem_Clempson
www.discogs.com/artist/Adrian+Askew
www.maggiebell.co.uk
www.worthy.de
www.traffic-jam.info/band/eddi.html

Text: -Klaus Reckert-
Foto: -Klaus Reckert-



Druckversion
Aktuelle Konzert-Reviews von Klaus Reckert:

Colosseum

Heavy Summer Break Festival

Chicago

Kristoffer Gildenlöw

Motorpsycho

Alle Konzert-Reviews von Klaus Reckert