Konzert-Bericht
Bönnsch Walkways

Hamburg Blues Band

Bonn, Harmonie
16.01.2014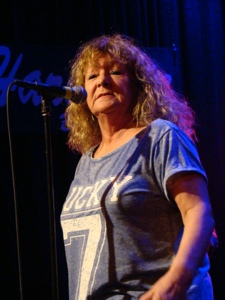 Auch im ihrem über 30. Dienstjahr und auch beim gefühlten fünften Live-Erlebnis am immer gleichen (wunderbaren) Ort bewahrheitet sich vor allem eines: Die HBB klingt jedes Mal anders! Was natürlich viel mit ihren ständig wechselnden und immer großartigen Gast-Stars zu tun hat. Und ihrem Auftritts-Konzept, das diese immer wie optimal gefasste Juwelen leuchten lässt...

An diesem Abend ging es neben der Stammbesetzung Gert Lange (voc, rhythm guit), Michael Becker (bss, back voc) und Hansi Wallbaum im ersten Set um Miller Anderson (guit, voc; Ex-Keef Hartley). Der Schotte begeisterte ab dem ersten Song ("Rollin'") mit ausdrucksstarkem Spiel zwischen Blues, Rock und durchaus auch mal Jazz. Allerdings war seine relativ beißend klingende Tele und sein Mikrofon im Mix über den gesamten Abend leider extrem überrepräsentiert - so sehr, dass beispielsweise Gerts Gesang kaum und seine Rhythmus-Gitarrenarbeit gar nicht mehr hörbar war. Und auch ohne Gehörschutz ging es erstmals nicht mehr. In diesem Fall hat also mal die "Fassung" gelitten und selbst zu wenig geschimmert...
"(I Came Here) Just To Cry" ist eine Anderson-Komposition von 1968, die vielleicht nicht ganz zufällig an "Triad" (David Crosby, 1967) erinnert. "Get Off My Back" hat die HBB schon (als Burg Herzberg All Stars) gemeinsam mit Micky Moody (u.a. Whitesnake) gespielt, an diesem Abend entfachte Millers Slide ein zumindest vergleichbares Feuer. "Fog On The Highway" ist ein auf einer schottischen Atlantikinsel startendes kleines Road Movie abermals aus Millers Feder.

Auch das zweite Set begann noch in bewährter Besetzung. Millers enorm starkes Wah-Solo zu "High Tide..." mutierte kaum merklich zu "Hey Joe", bis dann zu Frees "Wishing Well" Maggie Bell auf die Bühne kam. Mit u.a. Tom Waits "Down In The Hole" (inklusive gepfiffenem Solo) und dem schon von zahllosen Blues-Assen interpretierten "As The Years Go Passing By" (dem der verspielte Miller eine improvisiert klingende "Parisienne Walkways"-Coda hinzufügte) erwies die schottische Grand Dame von Anfang an ihre Vielseitigkeit und Ausdrucksstärke.
Spätestens mit der intensiven Ballade "My Love Was In Chains" machten Maggie, Miller und die HBB die Bühne endgültig zu ihren Bönnsch Walkways, auch wenn noch durchaus knisternde Zugaben folgten...
Setlist:
Rollin'
Stony Times
Make Love Strong
Think It Over
Just To Cry
Get Off My Back
Fog On The Highway
Rattlesnake Shake
---
High Tide & High Water
Wishing Well
Down In The Hole
As The Years...
I Believe I'm In Love
Penicillin Blues
Palace Of The King
My Love Was In Chains
---
Respect Yourself
Into The Night



Surfempfehlung:
www.hamburgbluesband.de
www.handmadeconcerts.de
www.maggiebell.co.uk
www.milleranderson.co.uk
www.popfrontal.de/pages/artikel/hamburg_blues_band_190112.htm
www.popfrontal.de/pages/artikel/hamburg_blues_band_240108.html
de.wikipedia.org/wiki/Hamburg_Blues_Band
www.gaesteliste.de/konzerte/show.html?_nr=2294
en.wikipedia.org/wiki/As_the_Years_Go_Passing_By

Text: -Klaus Reckert-
Foto: -Klaus Reckert-



Druckversion
Mehr über Hamburg Blues Band:

News

Tonträger

Tourdaten
Aktuelle Konzert-Reviews von Klaus Reckert:

Colosseum

Heavy Summer Break Festival

Chicago

Kristoffer Gildenlöw

Motorpsycho

Alle Konzert-Reviews von Klaus Reckert