NEWS
OUT OF LOVE
Funny Feeling. Heute.
HAYLEY REARDON
Neue Single, EP am Horizont
CATT
Streicherverziert
BLACK PEAKS
Live At The Brighton Centre
SILVERSTEIN
Neuer Song. Jetzt!
NEWS KOMPAKT
Fiddlehead, Los Pepes, Quicksand, Chris Eckman, Teenage Fanclub, The Wallflowers, Soeckers, Anderson East, Rostam, AFI


Konzert-Bericht
Intensiv wie eine (Baum)Wurzelbehandlung

Motorpsycho

Düsseldorf, Zakk
09.06.2014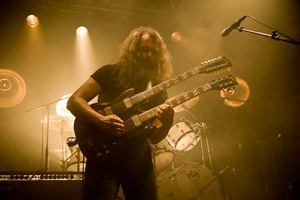 Auf der 25-Jahre-Tour zum "Behind The Sun"-Album schauten unsere Lieblingsnorweger auch in Düsseldorf vorbei. Das zunächst herrliche Wetter ließ Phantasien entstehen, dass der Auftritt doch auch im luftigen und eine Bühne aufweisenden Biergarten des generell urgemütlichen Zakk stattfinden konnte. Wettergottlob waren da wohl die Lärmschutzbestimmungen vor, denn während drinnen der Bühnensturm entfacht wurde, brach draußen der Orkan "Ela" los, in dessen Verlauf drei Menschen starben, allein in der Landeshauptstadt 170.000 Bäume beschädigt wurden oder gleich ganz entwurzelt wurden und so auch der Verkehr in NRW großflächig lahmgelegt wurde. Doch das merkten wir erst nach diesem wundervollen Konzert...

Auch auf der Bühne ging es zunächst piano los - ein knapp zwanzigminütiger "Unplugged"-Block brachte sanfte Lagerfeuer-Versionen von "Coventry Boy", "Babylon", "Sideway Spiral", "Kill Some Day" und "W4T1" mit drei Akustik-Gitarren und etwas Mellotron-Untermalung zu Gehör. Doch ab "Stained Glass" wurde es elektrisch und zunehmend elektrisierend. Auffallend die teils radikalen Umarbeitungen, welche die Songs der diesmal fast 25 Jahre abdeckenden Setlist für diese Tour erfahren haben. Beispielsweise "Serpentine" hat jetzt nie geahnte Tiefe und Wucht abbekommen, was dem Stück aber glänzend steht.

Einen Höhepunkt des Konzertes bot - natürlich - Hell, für das es auch bei Gitarrist "Snah" eine Doppelhals-Gitarre inclusive Zwölfsaitiger sein muss. Die zuvor kaum geprobte Jam-Fassung von "577" bildete die erste Zugabe, begeisternd wie auch das folgende "Plan #1". Das akustische "Come On In" führte schließlich zum Unplugged-Beginn zurück und versüßte so das schmerzliche Konzertende - und vielleicht auch die vom Unwetter deutlich komplizierte Heimfahrt, die auf viele Besucher wartete.

Surfempfehlung:
motorpsycho.fix.no
soundcloud.com/tags/motorpsycho
www.rdio.com/artist/MotorPsycho
open.spotify.com/artist/2bNIAjyL3hFCuQBQqhPN4T
myspace.com/motorpsychopage
www.last.fm/music/Motorpsycho
www.setlist.fm/setlist/motorpsycho/2014/zakk-dusseldorf-germany-1bc00dac.html
www.zakk.de
de.wikipedia.org/wiki/Motorpsycho

Text: -Klaus Reckert-
Foto: -Tobias Berk-



Druckversion
Mehr über Motorpsycho:

News

Interview

Tonträger

Konzert-Bericht
Aktuelle Konzert-Reviews von Klaus Reckert:

Colosseum

Heavy Summer Break Festival

Chicago

Kristoffer Gildenlöw

D-A-D

Alle Konzert-Reviews von Klaus Reckert