Konzert-Bericht
Schottland und so

The Real McKenzies
Far From Finished

Hamburg, Knust
15.09.2005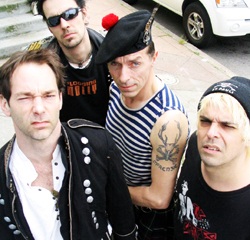 Als The Real McKenzies zuletzt im Hamburger Knust spielten, taten sie es noch als Support für die Terrorgruppe. Diesmal waren sie als Headliner vor Ort und der war noch eine kleine Nummer zu groß für die schottischen Kanadier. Nicht ganz die Hälfte des Clubs war gefüllt, was aber der Stimmung keinen Abbruch tat.

Far From Finished hatten zusätzlich noch das Problem, dass im Vorraum das Uefa-Cup-Spiel des HSV übertragen wurde, so dass bei den Bostonern nicht mal alle Anwesenden vor der Bühne standen. Doch die Band ließ sich davon nicht beeindrucken und spielte ein munteres Set mit all den Hits ihrer famosen "East Side Of Nowhere"-Platte. Zwar schafften sie es nicht, die Schönheit aller Songs auch auf die Bühne zu transportieren und einige Songs wirkten live wie lediglicher Durchschnitts-Streetpunk, doch die Album-Highlights "Seasonal Patriot" (am Anfang) und "A Destination Nowhere" (am Ende) verfehlten ihre Wirkung nicht und zeigten das immense Potential der Band. Das bemerkte auch das Publikum und mit der Zeit fanden sich mehr Leute vor der Bühne, tanzten und feierten. Und ließen den HSV einfach mal HSV sein...

Der hatte gegen Kopenhagen nur ein Unentschieden geschafft, als The Real McKenzies auf die Bühne kamen und sich ihr Sänger im aktzentfreien deutsch als "Ich bin Paul" vorstellte. Der war gut drauf und ganz offensichtlich wieder mal nicht nüchtern. Vielleicht ein Grund, warum es mal wieder ein unterhaltsames Konzert der Dudelsack-Punker wurde. Zwischen neuen Songs wie "Smokin' Bowl", dem großartigen "Pour Decisions", "13" oder "Best Day Until Tomorrow", alten Nummern wie "Nessie", "The Night The Lights Went Out In Scotland" oder "Bitch Off The Money" und einigen Traditionals wurden fleißig Hintern gezeigt (ja, sie tragen nichts unter ihren Kilts), über England und die Queen geschimpft, Grimassen gezogen (einzigartig: Gitarrist Dirty Kurt Robertson) und sich gegenseitig geboxt ("Ich mag dich nicht!"). Und Hamburg - mal was Neues - für sein schlechtes Wetter gelobt: "Es regnet viel und es ist kalt. Das erinnert mich an Schottland", witzelte Paul. "Außerdem könnt ihr stolz auf eure hübschen Punkrockerinnen sein." Als Beweis zog er ein Mädel auf die Bühne, die dann aber sagte: "Ich komme aus Kiel". Egal, The Real McKenzies kommen ja auch nicht aus Schottland...

Surfempfehlung:
www.realmckenzies.com
www.farfromfinished.com

Text: -Mathias Frank-
Foto: -Pressefreigabe-



Druckversion
Mehr über The Real McKenzies:

News

Tonträger

Konzert-Bericht
Mehr über Far From Finished:

News

Tonträger

Konzert-Bericht
Aktuelle Konzert-Reviews von Mathias Frank:

Pennywise

Bosse

Bad Religion

Prong

Guns N' Roses

Alle Konzert-Reviews von Mathias Frank