NEWS
POSTCARDS
Traurig, aber wahr
NEWS KOMPAKT
The Chemical Brothers, Danger Dan, Jan Delay, Shirley Holmes, Sperling, Ponte Pilas, Emirsian, Juse Ju, Akne Kid Joe, Beartooth
NEWS KOMPAKT
Eliza Shaddad, Ida Mae, The Bronx, We Were Promised Jetpacks, Sarah Walk, Stubborn Heart, Weezer, Mini Trees, Scotch & Water, Danko Jones
DRANGSAL
Urlaubsreif
CLEOPATRICK
Sie wollen nur spielen ...
MARATHONMANN
Exklusiv: Cadet Carter covern "Nie genug"


Konzert-Bericht
Das, was zusammenhält.

Built To Spill

Bochum, Bahnhof Langendreer
16.10.2008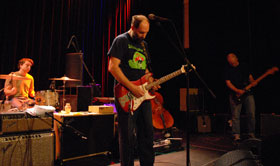 Eigentlich ein perfektes Konzert. Punkt. Doug Martsch und seine Mannen spielten ein Potpourri der beliebtesten Built To Spill-Melodien der letzten 14 Jahre, also auch Klassiker wie "In The Morning", "Car" oder "Twin Falls". Und das in einer Präzision, wie sie gerade noch angemessen erscheint, ohne die Songs steril wirken zu lassen.

Dennoch konnte ich mich während des ganzen Auftritts nicht gegen den Gedanken wehren, dass eine dunkle schwere Wolke über der Band hängt. Unstimmigkeiten auf menschlicher Ebene? Lagerkoller? Tourstress? Als Doug verkündet, "We're having a wonderful time", hält man lediglich das Wort "time" nicht für eine Lüge.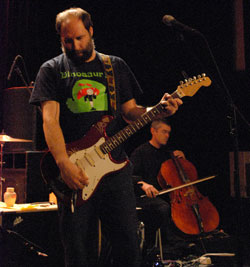 Man darf sich so eine Tournee ja nun nicht gerade als Zuckerschlecken vorstellen. Schlafen, Warten, Essen, Warten, Fahren, Warten, Spielen, Warten und wieder von vorne. Das kann schon ziemlich zermürben. Kein einziges Lächeln konnte Mr. Martschs Mundwinkel heben, bis sich die Band in der Zugabe in einem rund 20-minütigen Indie Psychedelic Impro-Rausch verlor. Da erst schienen sich die Wolken zu lichten und den Blick auf das freizugeben, was die Band im Kern zusammenhält: Die Musik.

Surfempfehlung:
www.builttospill.com
www.myspace.com/builttospill
www.lastfm.de/music/Built+to+Spill

Text: -Stefan Claudius-
Fotos: -Stefan Claudius-



Druckversion
Mehr über Built To Spill:

News

Tonträger

Konzert-Bericht
Aktuelle Konzert-Reviews von Stefan Claudius:

Malcolm Middleton

Mogwai

Explosions In The Sky

Gravenhurst

Johnossi

Alle Konzert-Reviews von Stefan Claudius