Konzert-Bericht
What amounts to a dream anymore?

Broken Bells

Hamburg, Uebel & Gefährlich
16.08.2010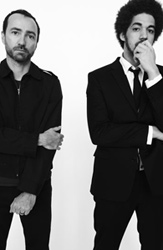 Was tun, wenn man zu zweit ein Album einspielt, das sich ob seiner Studiotricks und ausufernder Elektrospielereien live nicht ohne Weiteres umsetzen lässt? Man könnte darüber nachdenken, es ganz zu lassen und erst gar nicht auf Tour zu gehen. Dass sich Shins-Frontmann James Mercer und Hip Hop-Produzenten-Gott Brian Burton, besser bekannt als Danger Mouse, nicht für diese Möglichkeit entschieden haben, ist - wie sich herausstellte - ein Geschenk.

So sah man dieser Tage Broken Bells aufgestockt zur sieben Mann starken Truppe auf der dafür fast zu engen Bühne des Uebel & Gefährlich. Man konnte den Eindruck gewinnen, eine Art Deluxe-Version der Shins auf der Bühne zu haben, die mit Fender Rhodes, vielen weiteren Tasteninstrumenten, Trompete und Gitarren und weiß der Geier was für Geräuschen die feingliedrigen Songs in einer kaum erahnten orchestralen Breite umwälzte. "Sailing To Nowhere" wurde mit urplötzlichen Gitarren- und Klangwänden in bester Wilco-Manier ein seine Bestandteile zerlegt, während über all dem James Mercers Stimme manchmal etwas unsicher, aber stets andächtig schwebte. Neben weiteren blumig inszenierten Songs des Debut-Albums kamen die Hamburger zudem in den Genuss des wundervollen "Insane Lullaby", das erst kürzlich auf dem von Danger Mouse, David Lynch und dem verstorbenen Mark Linkous produzierten Album "Dark Night Of The Soul" veröffentlicht wurde.

Ein unerwartet unkitschiges Cover von "Crimson & Clover" (Tommy James & The Shondells) rundete den Abend ab. Kurzum ein Konzert, das viele Erwartungen übertraf und mit dem dargebotenen Album eins gemeinsam hatte: keinerlei Längen.

Surfempfehlung:
www.myspace.com/brokenbells
www.brokenbells.com

Text: -Christian Spieß-
Foto: -Pressefreigabe-



Druckversion
Mehr über Broken Bells:

News

Tonträger
Aktuelle Konzert-Reviews von Christian Spieß:

Bambi Kino

Spoon

Olli Schulz & Home Of The Lame

Alberta Cross

Brett Dennen

Alle Konzert-Reviews von Christian Spieß