NEWS
NEWS KOMPAKT
Statues On Fire, Luebke, Vizediktator, Time, The Valuator, J. Vague, Schimmerling, Adina, NinaMarie, Old Sea Brigade, Liza Dries
SKID ROW
Tick. Tick. Boom!
HALLO 22
Herre, Dexter und die DDR
FIRESIDE
Ein: Album!
THE DAMNED
Guck mal einer live
GAZ COOMBES
Wieder solo


Konzert-Bericht
Vibrierende Beats südlich des Polarkreises

Bloodgroup

Dresden, Scheune
30.04.2013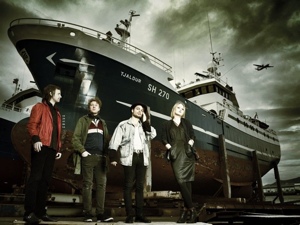 Man könnte glauben, Island als Geburtsort einer Band, ist ein Garant für eingängige Sounds und mitreißende Live-Performances. Was von der kleinen Insel südlich des Polarkreises zu uns überschwappt, hat oftmals Hand und Fuß, wie es bei der Bloodgroup der Fall ist. Auch in diesem Jahr stattete die Band Dresden einen Besuch ab und ihr aktuelles Album "Tracing Echoes" zum Besten.

Nur zögerlich füllte sich der große Saal der Scheune, aber das kennt man schon. Der Dresdner Konzertgänger hat in den meisten Fällen die Ruhe weg und kommt lieber etwas später, als zu früh an. Am Ende, das heißt eigentlich am Anfang des Konzertes, ist der Saal angenehm gefüllt und die Bloodgroup beginnt ihr Konzert ohne Support. Wo sich im vergangenen Jahr noch dezente Zurückhaltung des Publikums fand, lässt sich diesmal das Publikum von den ersten Tönen mitreißen. Man merkt, wer bereits ein begeisterter Anhänger ist.
Heavy dröhnende, vibrierende Bässe, Beats, die das Herz erbeben lassen und Gesänge, die mit einem Hauch in das Ohr vordringen. Zwischen minimalistischen Elektropopsound erheben sich mit dem wundervollen "Nothing Is Written In The Stars" triphopartige Klänge, welche von der lasziv hauchenden Stimme Sunnas begleitet werden und am Rande an Portishead erinnern. Mit "Indefinate", "The King's Woe" und "Fall" finden sich weitere Vertreter von "Tracing Echoes". Volle Begeisterung ernten besonders "My Arms" und "Overload" von "Dry Land". Umgeben von leichten Nebel- und Lichtschwaden ist der Saal gefüllt mit einer tanzenden Menge, welche am Ende in beinahe euphorischen Beifall verfällt und der Band eine Zugabe entlockt. Der Bonus des Abends war die musikalische Unterstützung durch Julie Ofelia Østrem Ossum, der Cellistin von Einar Stray.

Blickte man sich am Ende um, sah man den Wunsch nach einer weiteren Zugabe. Allerdings entschädigte dafür auch ein sympathisches Gespräch mit der Band am Merchandising-Stand. Was bleibt, ist der Eindruck voller Begeisterung auf beiden Seiten.

Surfempfehlung:
www.bloodgroup.is
www.facebook.com/bloodgroupmusic
www.myspace.com/bloodgroup
www.lastfm.de/music/Bloodgroup
www.twitter.com/Bloodgroup
www.soundcloud.com/bloodgroup

Text: -Daniela Handke-
Foto: -Pressefreigabe-



Druckversion
Mehr über Bloodgroup:

News

Konzert-Bericht
Aktuelle Konzert-Reviews von Daniela Handke:

Thalia Gardens Festival

Dillon

Bloodgroup

We Were Promised Jetpacks

Babylon Circus

Alle Konzert-Reviews von Daniela Handke