Konzert-Bericht
Im Gegenteil

Bad Religion

Hamburg, Große Freiheit 36
25.07.2017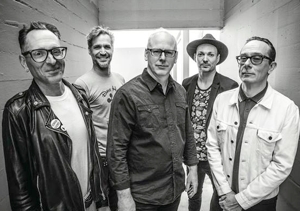 Wenn du keine neuen Songs hast - spielst halt alte. Und Bad Religion griffen an diesem Abend in die ganz frühen Kisten. Eine ziemlich perfekte Entscheidung, das überwiegend alte Publikum feierte die Band regelrecht euphorisch ab und nach 90 Minuten wirkten auch Bad Religion sichtlich berührt von der Begeisterung in der natürlich ausverkauften Großen Freiheit 36.

Das letzte Bad Religion-Album "True North" erschien 2013, was die Punkrock-Opas aber nicht daran hindert, regelmäßig um die Welt zu touren. Und dabei ganz offensichtlich mächtig Spaß zu haben. Einen Brian Baker zum Beispiel, inzwischen tatsächlich auch schon seit 23 Jahren in der Band, hat man selten so viel lachen, ja fast schon tanzen und posen sehen wie an diesem Abend. Sänger Greg Graffin alberte immer wieder mit dem neuen Drummer Jamie Miller herum und Jay Bentley war Jay Bentley, im Gegensatz zu seinen Me First And The Gimme Gimmes-Ausflügen aber nüchtern, er tanzte, er schwitzte, er wird nicht alt. Und dann gab es noch Gitarrist Mike Dimkich, der ununterbrochen ein scheinbar unbezwingbares Riesen-Kaumgummi kaute und dabei herrlich lässig musizierte und dabei sein ganz eigenes Rockstar-Ding durchzog, inklusive Lederweste über rosa Shirt mit Blitz. Aber er war ja früher auch bei The Cult... und alle zusammen? Waren sensationell. Und spielten eine sensationelle Setlist mit fast nur Songs, die weit über 20 Jahre alt sind. Siehe oben.

Mit "American Jesus" und "Do What You Want" ging es los - und dann ging es Schlag auf Schlag. "Along The Way" und "Conquer The World", später die seltenen "Henchman", "Tomorrow" und "Against The Grain", Klassiker wie "Atomic Garden", "Suffer", "No Control" und "You're Only Gonna Die" und kurz vor Schluss das Giganten-Doppel "Generator" und "21st Century (Digital Boy)". Oh mein Gott, die alten Säcke vor der Bühne hörten nicht auf zu staunen - und die alten Säcke auf der Bühne hörten nicht auf zu spielen. 90 Minuten Punkrock, "Come Join Us" und "You", "Sorrow" und "Infected", "Stranger Than Fiction" und "Fuck Armaggedon". This Is Hell? This Is Das Gegenteil.

Surfempfehlung:
www.badreligion.com
www.facebook.com/badreligion

Text: -Mathias Frank-
Foto: -Pressefreigabe-



Druckversion
Mehr über Bad Religion:

News

Tonträger

Konzert-Bericht
Aktuelle Konzert-Reviews von Mathias Frank:

Booze Cruise Festival

Pennywise

Bosse

Prong

Guns N' Roses

Alle Konzert-Reviews von Mathias Frank