Konzert-Bericht
Rock-N-Roll-Tiere

...And You Will Know Us By The Trail Of Dead

Köln, Stadtgarten
16.02.2002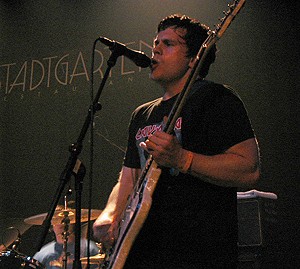 So legt man also das Geld an, wenn man gerade bei einem Major-Label (Interscope / Motor) unterschrieben hat, eine phantastische neue Platte namens "Source Tags & Codes" im Kasten hat und für ein paar Showcases die Städte unsicher machen darf: Man spielt eine Stunde lang unglaublichen Rock N Roll und zerhackt dann das komplette Equipment. Anscheinend in jeder Stadt. Wo man eben gerade ist. Ladies and Gentlemen: ...And You Will Know Us The The Trail Of Dead haben soeben die Stadt kaputt gerockt! Köln in diesem Fall.

Was macht ein besonderes Konzert aus? Es muß natürlich etwas passiert sein, was nirgends sonst passiert ist und man kann so mit einer coolen Story vor seinen Homies angeben. Wenn man von einem Trail Of Dead-Gig kommt, könnte man meinen, dies wäre soeben so ein besonderes Konzert gewesen, aber die Herren Kevin Allen, Neil Busch, Conrad Keely und Jason Reece aus Austin, Texas, sind Profis, was das Zerlegen von Bühnen-Equipment angeht. So ist es dann doch recht schade, wenn man weiß, daß z.B. Bassist Neil sich gerne mal von seinem Amp begraben läßt, und daß nach "A Perfect Teenhood" die Bühne zerlegt wird. So geschehen in Köln und neulich auch bei den NME Carling Award Shows in England. "Kollege, ich hab' Trail Of Dead gesehen, in Köln, die haben ihre Instrumente zerstört!" "Ja, und? Ich auch. In London." Das nimmt natürlich ein wenig von der Magie, aber es ist trotzdem ein großartiger Moment, egal, wo man ihn erleben darf.

Trail Of Dead wissen auch, wie man richtig rockt. Richtig, richtig rockt. Das haben sie knapp eine Stunde lang im Kölner Stadtgarten bewiesen. Es gab Songs vom ersten Album (u.a. "Richter Scale Madness", "Fake Fake Eyes", "Gargoyle Waiting"), es gab Songs vom zweitem Album (u.a. "Mark David Chapman", "Aged Dolls", "Mistakes & Regrets") und natürlich ein paar neue Songs ("Another Morning Stoner", "Baudelaire", "Relative Ways") und als Rausschmeißer "A Perfect Teenhood". Dabei haben sie alles gegeben, und das in Perfektion - wie wild auf der Bühne rumspringen, ohne Rücksicht auf Verluste in der ersten Reihe. Instrumenten-Tausch ist auch kein Problem, man wechselt sich an Gesang, Gitarre, Baß und Schlagzeug ab und spielt einfach Rock N Roll, wie er sein muß: Laut, dreckig, intensiv und gefährlich. Wobei man auch den direkten Kontakt zum Publikum sucht und auch schonmal ins selbige hineinspringt und dort weiterspielt/-singt. Auch wenn man weiß, daß es diese Show mit ähnlichen Einlagen evtl. schon öfters gegeben haben könnte, kann man nach einem Besuch eines Trail Of Dead-Konzerts bedenkenlos zu sich selbst sagen: "Kollege, Du hast ein phantastisches Rock N Roll-Konzert gesehen!"

Text: -David Bluhm-
Foto: -David Bluhm-



Druckversion
Mehr über ...And You Will Know Us By The...:

News

Interview

Tonträger

Konzert-Bericht

10+10 Interview
Aktuelle Konzert-Reviews von David Bluhm:

A Place To Bury Strangers

Reeperbahn Festival 2021 - 2. Teil

Reeperbahn Festival 2021 - 1. Teil

Reeperbahn Festival 2020 - 1. Teil

Laura-Mary Carter

Alle Konzert-Reviews von David Bluhm