Konzert-Bericht
Die Rückkehr des Rave

The Music

Berlin, Magnet
07.10.2002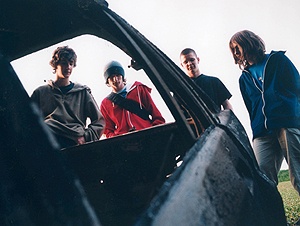 Okay, wahrlich neu ist das was Robert Harvey und seine drei Bandkollegen da abliefern wirklich nicht. Aber dennoch muss es einen Grund geben, warum sich die englische Musikpresse bezüglich des selbstbetitelten Debüts von The Music fast überschlägt. Was haben die Jungs was anderen fehlt? Vielleicht Roberts charismatische, coole Art zu singen und aufzutreten oder doch eher die fast schon unverschämte Art und Weise wie The Music versuchen Dancefloor und Rock zu versöhnen. Ganz in der Tradition britischer Rave-Bands von den Charlatans bis zu den Happy Mondays. Und auf Platte machen die vier Jungs das beängstigend perfekt. Man durfte also auf die Liveumsetzung im ausverkauften Berliner Magnet Club gespannt sein.

Ohne Vorband ging es dann auch gleich mit dem Opener "The Dance" zur Sache. Gute, beschwingte Stimmung machte sich im Club breit, es wurde getanzt und Sänger Robert Harvey's schräge Art trug nicht selten zur Belustigung des Publikums bei. Und zugegeben: Das alles kam cool rüber. Doch als sich viele gerade erst warm getanzt hatten, war es dann auch schon vorbei. Knappe 45 Minuten gönnten die Jungs von der Insel ihren Berliner Fans. Trotz lauten Zugabeforderungen ging das Licht an und Musik aus der Konserve setzte ein. Nicht wenige waren enttäuscht. In Sachen Zugaben hatten sich die vier wohl auch einiges von ihren Vorbildern abgeguckt. Vielleicht 'ne Spur zu cool? Vielleicht hatten sie aber auch nicht mehr Stücke auf Lager. Wer kann das schon wissen?

Surfempfehlung:
www.themusic.uk.com
themusicuk.cjb.net

Text: -Carsten Wilhelm-
Foto: -Pressefreigabe-



Druckversion
Mehr über The Music:

Interview

Tonträger

Konzert-Bericht
Aktuelle Konzert-Reviews von Carsten Wilhelm:

Immergut Festival

The Legends

Shout Out Louds

Finn.

Art Brut

Alle Konzert-Reviews von Carsten Wilhelm