NEWS
NEWS KOMPAKT
Descendents, Angels & Airwaves, Machine Gun Kelly, The Drums, Cuffed Up, DZ Deathrays, The Sonder Bombs, Heave Blood & Die, Tanyc, Bahrenfeld
AC/DC
Shot In The Dark!
JULIEN BAKER
Rückkehr im Breitwand-Format


Konzert-Bericht
Songs gegen Desinteresse

Homeslice

Berlin, Bastard
11.04.2003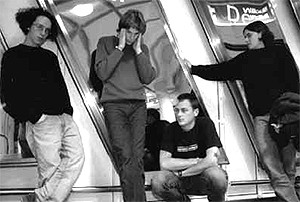 Leere Clubs und desinteressiertes Publikum. Davon können zahlreiche Bands, auch etablierte, einiges erzählen. Besonders in Berlin. Homeslice kommen aus der Nähe von München und hatten sich zu ihrer ersten Deutschland-Tournee aufgemacht. In diesem Rahmen spielten sie auch im Berliner Bastard im Prenzlauer Berg. Eigentlich eine geeignete Location in Sachen Indie-Rock, zumal wenn das Ganze im Rahmen einer Tanzveranstaltung (United Colors Of College Rock) stattfindet. Sollte man meinen! Doch an diesem Abend blieb es weitestgehend leer. Schade!

Und die wenigen Besucher schienen sich nicht sonderlich für die junge Band zu interessieren, die irgendwann nach Mitternacht ihren Gig begann. Homeslice gaben sich zunächst einige Mühe gegen das offenkundige Desinteresse anzuspielen und an ihren Songs und Fertigkeiten hat es an diesem Abend wahrlich nicht gelegen. Homeslice spielten die Songs ihres selbstbetitelten Demos, aber auch das eine oder andere neue Stück. Live kamen die ein wenig an Muse orientierten Indie-Rock-Stücke der Band durchaus kraftvoll rüber, aber gegen das Berliner Publikum war an diesem Abend nicht anzuspielen. So ließ die Spielfreude der Jungs auch recht schnell nach und das Set näherte sich schneller als erwartet seinem Ende. Diese Band vor einem interessierteren Publikum macht bestimmt Spaß! Es wäre ihnen zu wünschen!

Surfempfehlung:
www.homeslice.de

Text: -Carsten Wilhelm-
Foto: -Pressefreigabe-



Druckversion
Mehr über Homeslice:

Tonträger
Aktuelle Konzert-Reviews von Carsten Wilhelm:

Immergut Festival

The Legends

Shout Out Louds

Finn.

Art Brut

Alle Konzert-Reviews von Carsten Wilhelm