NEWS
LO FAT ORCHESTRA
All I Want Is You To Love Me
MIDGE URE
The Gift. Neu.
NEWS KOMPAKT
Leto, While She Sleeps, Shoreline, Spite, Casey, Beartooth, Shatten, The Baboon Show, Statues On Fire, The Sensitives
DIE REGIERUNG
Tourstart!
NEWS KOMPAKT
Björk, Casper, All diese Gewalt, David Ost, The Screenshots, Blush Always, The Rural Alberta Advantage, Sperling, Willow Parlo, Attic Stories
METRIC
Live. In klein.


Konzert-Bericht
Unspektakulär

Incubus
Hundred Reasons

Hamburg, Alsterdorfer Sporthalle
16.04.2004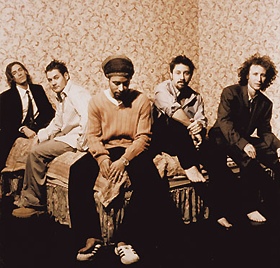 In Hamburg hatten Incubus ein Problem. Sie sind zu groß für die üblichen 1500er Clubs wie die Große Freiheit 36 oder das Docks, aber noch zu klein für die neue 15.000 Zuschauer fassende Colorline-Arena. Also mussten sie in die Alsterdorfer Sporthalle ausweichen, eine ungemütliche und für ihren schlechten Sound schon fast berühmte Mehrzweckhalle.

Darunter zu leiden hatten auch Hundred Reasons, von Kollege Wohlfeld in seiner CD-Kritik sehr passend als Englands Pendant zu den Rival Schools betitelt. Doch während sie auf Platte noch bedingt gefallen können, klangen sie live - aufgrund des üblen Klanges - einfach nach nichts. Denn nichts war zu hören. Nur ein dumpfer Brei quoll aus den Boxen, gelegentlich von ein paar Schreien oder Schlagzeug-Hämmern unterbrochen. Den Fans war es egal, überraschend viele feierten die Band ab, tanzten Pogo und sorgten dafür, dass die Band ihren Auftritt als Erfolg verbuchen kann.
Die Sporthalle war zu 3/4 gefüllt, knapp 6.000 Fans hatten um die 30 Euro ausgegeben, um sich Incubus anzusehen. Bei plötzlich richtig gutem Sound. Die Bühne war in dunkelblaues Licht getaucht, 1.000 kleine Sterne leuchteten hinter dem Schlagzeug, Incubus waren da und begannen mit einer glasklaren Version von "Megalomaniac". Es folgte "A Crow Left Of The Murder..." und damit war schnell klar, dass sich Incubus auf ihr aktuelles Album konzentrieren würden. Die Band spielte äußerst souverän, punktgenau und leider auch recht unspektakulär. Denn wirklich viel Überraschendes passierte nicht. Brandon Boyd sah gut aus, sang wundervoll und war der Mittelpunkt. Seine Incubus-Kollegen sind großartige Musiker und zeigten das auch. Einziger an der Gitarre, der neue Basser, ein DJ und ganz besonders Drummer Jose Antonio Pasillas. Alles herausragend, alle souverän, alles aber schon bekannt. Auch "S.c.i.e.n.c.e."-Stücke oder "My Girl"-Jams sorgten nur für kurzweiliges Aufhorchen. Nein, Incubus spielten eine große Rock-Show und das machten sie gut. Sehr gut. Aber eben auch recht unspektakulär.

Surfempfehlung:
www.enjoyincubus.com
www.hardplace.de/incubus
www.hundredreasons.com

Text: -Mathias Frank-
Foto: -Pressefreigabe-



Druckversion
Mehr über Incubus:

News

Tonträger
Mehr über Hundred Reasons:

News

Interview

Tonträger

Konzert-Bericht
Aktuelle Konzert-Reviews von Mathias Frank:

Booze Cruise Festival

Pennywise

Bosse

Bad Religion

Prong

Alle Konzert-Reviews von Mathias Frank