NEWS
PATRICK WOLF
Eines Nachts ...
MOTÖRHEAD
Bad Magic 2.0
GRADE 2
Der Nächste, bitte.
STEINER & MADLAINA
Die besten aller Zeiten
NEWS KOMPAKT
Muff Potter, The Offenders, Wisecräcker, Donots, Marie Bothmer, Poly Ghost, Power Plush, Accidental Bird, Maryaka, Bloodstrings
UDO LINDENBERG
Feat. Apache 207


Konzert-Bericht
Groovy

The (International) Noise Conspiracy
Starlite Desperation

Hamburg, Fabrik
18.05.2004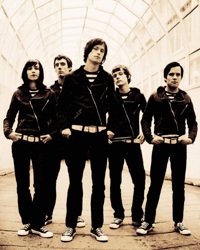 Erst im Juli erscheint das neue Album von The (International) Noise Conspiracy, doch schon jetzt waren die schwedischen Soul-Rocker um Ex-Refused-Sänger Denis Lyxzén auf Tour, um "Armed Love" vorzustellen. "Natürlich ist es eine gute Chance, die neuen Stücke zu testen" erzählte Gitarrist und Bandgründer Lars Strömberg im Interview mit Gaesteliste.de. "Doch der eigentliche Grund ist, dass wir einfach Bock hatten, wieder aufzutreten, wir wollten wieder auf Tour gehen! Schließlich standen wir seit 1 1/2 Jahren nicht mehr auf der Bühne."

Bis sie diese aber wieder betreten durften, nutzten die vier Burschen der Starlite Desperation ihre Chance und spielten 45 Minuten nicht besonders aufregenden, aber auch nur selten störenden Garagen-Rock zwischen den White Stripes und dem Headliner. Nach anfänglicher Zurückhaltung der Zuschauer fanden sich aber mit der Zeit immer mehr Leute vor die Bühne und waren von dem rein optisch an die TV-Show "Die wilden 70er" erinnernden Quartett (Steve am Schlagzeug, Kelso am Mikro und Forman an der Gitarre, nur Fez fehlte) äußert angetan, das sich dafür mit einer engagierten Show bedankte.
Natürlich war das kein Vergleich zu dem, was The (International) Noise Conspiracy bot. Die fünf mal wieder im Einheitslook auftretenden Schweden (Jeans, schwarze Lederjacken, rot-schwarz gestreifte Shirts) waren stets in Bewegung und alle voran Dennis schien nicht mal bei den Ansagen still stehen zu können. Er rannte über die Bühne, wälzte sich auf dem Boden und genoss jeden Sprung und jeden Tritt in die Luft. Und die Zuschauer in der gut, aber nicht übermäßig gefüllten Fabrik ließen sich von dieser Energie anstecken und feierten mit der Band, ohne wirklich auszuflippen. Ein bisschen Tanzen hier, fleißig Kopfwippen da und großer Jubel immer wieder zwischendurch. Trotz vieler neuer und für die meisten Anwesenden unbekannten Songs. "Wir waren gerade in den Staaten auf Tour und haben viele neue Songs gespielt. Auch wenn die Leute sie nicht kannten und sich natürlich sehr über alten Nummern gefreut haben, sind sie auch bei den neuen Sachen gut abgegangen", berichtete Lars stolz. Und so war es auch in der Fabrik. Neue Songs wie "A Small Demand" oder "Communist Mood" mischten sich unter Kracher der Marke "Smash It Up" und nur die wenigsten schien es zu stören. Im Gegenteil.

Surfempfehlung:
alt.digitalfarmers.com/tinc
www.burningheart.com/bands/index.php?id=209
www.starlitedesperation.com
www.that70sshow.com

Text: -Mathias Frank-
Foto: -Pressefreigabe-



Druckversion
Mehr über The (International) Noise Cons...:

News

Interview

Tonträger

Konzert-Bericht
Aktuelle Konzert-Reviews von Mathias Frank:

Booze Cruise Festival

Pennywise

Bosse

Bad Religion

Prong

Alle Konzert-Reviews von Mathias Frank